Text messages composed correctly can be very powerful. Choosing the right words can have a significant impact and stir up passion and mystery in the ex you still love. Texts can help bridge the gap that has grown between you and help forge a new path that draws you both together. Using texts as a means to get your ex back can work to your advantage. All you need to know is what and when is best to text and of course what not to text and what could be detrimental.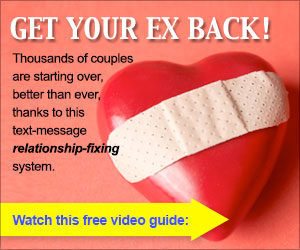 Choosing the right words is crucial and knowing how much time to give before sending a second text is all important. The wrong types of texts can lead to something much more painful that the initial break up so it is always a good idea to give yourself time to compose yourself as well as the message you would like to put across.
When it comes to texts that won't get your ex back there are 3 main types you need to know about and should avoid at all costs. Firstly there is the Nothing Text. These texts might start with a 'Hi' or 'what's up?' At first glance they may not appear offensive but on reflection what they actually do is lead to a one word answer that can close down the conversation.
Next is the Needy Text. These often start with 'What are you up to?', 'Are you seeing someone else yet?', 'Why don't you text me back?' or 'Don't you love me anymore? Although these may be questions you want answers for they are not appropriate in a text. They will make you appear insecure and desperate and if anything put your ex right off and remind them of the reason why you broke up.
Then there is the Begging and Pleading Text. These texts are way too desperate sounding and may start with 'I'll do anything just to get you back', 'Tell me what I did wrong', 'I can't live without you'.
Before sending any text remember why you are texting; because you want to get back with your ex and not push them further away.
How Effective Is It To Text Back Your Ex
Texting is perhaps one of the most popular ways in which we communicate. If we have a mobile phone the odds are we send out and receive text messages pretty much every day. Because texting is so easy and quick it is no wonder that it has become a powerful means of communication. Texts are appealing for many reasons but the main tick boxes they check are that a text message can be intimate, direct, concise and instant.
Because of the increase use of text messages, texting has become a popular form of reconnecting with an ex. All you need is a mobile phone with credits that allows you to send and receive texts. Where a phone call fails a text to your ex succeeds. And why? Because of access. Phone calls can be missed, unanswered are cut off. Texts on the other hand are more likely to be read, even if your ex chooses not to respond. Your message will have been seen and hopefully the impact of its content will have done enough to cause a positive reaction that could lead to you getting back with your ex.
Texting can lead to a whole lot more and from the initial text message send you could find a conversation merging into a new beginning. Knowing when to text and what word to write are highly important when it comes to regaining the interest and trust of your ex. Short phrases that make an impression or a simple single word could have your ex eager to rekindle your relationship.
As more and more people revert to texting as way of getting back with their ex, a new trend has developed. The more you text the better you become at knowing what to type and ultimately the more effective your text messages become. Before you know it you could be like many others who have tried the text you ex back formula and return their status to "in a relationship" from "single".